EARLY-BIRD EXCLUSIVE JOIN NOW SAVE £150 ON THE USUAL PRICE!!! PLUS GET THE CHALLENGE BONUSES!
You Know in Your Gut That It's 
Time to Get out of Retail
and Move onto a
Career You Enjoy
But you've probably realised that escaping retail isn't as easy
as you'd like it to be…
Are you struggling to work out what you could do after retail?
Are you tired of telling yourself, "I need to get out of retail" but doing nothing about it?
Are you lost and confused when it comes to marketing yourself effectively?
Maybe you've applied for jobs but aren't getting interviews?
Have you tried to escape retail in the past but failed?
Are you starting to worry that retail might be all you can do?
Could you use a guide who can show you how to escape?
Then I Can 

Help You 

with My…
12-Week Retail Escape Group Coaching Programme
I've Been in the Exact Position You're in
In 2018, I completed my 10th year in retail. It was the only job I had ever had, but I grew tired with the lack of work-life balance, appreciation and fulfilment that came with a career in retail.
I'd tried escaping before and failed, but this time, I was going to do it. This time, I was going to escape! 
I followed the conventional advice, sorted out my CV and cover letter and started applying for jobs outside of retail. I applied for over a hundred jobs—and some of those were other retail jobs.
How many do you think I heard back from?
None! Not even the ones in other retail sectors.
It was so frustrating. It felt like no one wanted me and that my retail experience counted for absolutely nothing!
Maybe I was destined for a life in retail after all. Or was I…?
From a Life of Retail to a Career I Loved In 12 Weeks
You see, what I didn't realise at the time was that the traditional job market is flawed for those of us in retail. It's set up for those making lateral changes—for people taking the obvious next steps in their careers. 
But if you're trying to escape retail, then the chances are you are looking to do something completely different, so do you see the problem?
The current system doesn't work for those of us in retail. 
But it doesn't have to be that way. I've developed a new strategy that helps people like us bypass the traditional methods—a strategy that helped me escape and is now helping hundreds of others escape retail too. 
After 12 weeks of using this strategy, I had successfully escaped retail, landed a career in a completely different industry, increased my salary, and was working in a job that gave me an amazing work-life balance. 
Fast-forward to today and I am now a Retail Escape Specialist running my own coaching business to help people like YOU escape retail for good. 
Don't you think it's time you learned from someone who's been there and done it?


What Am I Getting Exactly?
This is a 12-week program to take you where you want to go. You'll get lifetime access to the course, where I upgrade and refresh the content every year. 
Over the next 12 weeks, we will: 
Define EXACTLY what a career you love actually looks like.

This stage is about self-discovery and is also a lot of fun. When what you do and who you are align, you will discover a career path you will love.

Decide what you want, why you want it, and create your own retail escape plan that will ensure you achieve success.
Understand how career prototyping can ensure you land a career outside of retail without having to leave your current job first.
Learn how to overcome the fear of the unknown so you know you are making the right career change choices.
Craft the perfect CV/Resume to ensure you stand out amongst the crowd.
Discover how to get lots of quality job offers without wasting your time applying for hundreds of jobs through job search websites.
Practice the very best interview techniques so you can blow your interviewers away with how impressive you are.
Learn why you don't need qualifications or direct experience to land a career outside of retail and how you can effectively show your transferable skills
Accountability and ass-kicking! Sometimes we all need someone that believes in us! I'm committed to helping you get out of retail even if I drag you out of it myself! No excuses!
Everything you need to escape retail by someone that's been there and done it.
So, what are you waiting for? Isn't it time you escaped too?
Join Before MONDAY Midnight And SAVE
£150 + Get These 3 Bonuses
Bonus #1: Personal CV/Resume Critique - Worth £147
If you're anything like I was, your first step in terms of finding a new job was going out there and getting a CV/resume created. The problem with this approach is that you CV should reflect the job you're applying for, instead of yourself personally. If you want to get employers begging to interview you, then your CV needs to talk to them and help them see how your skills and experience is the solution to all their problems. CV/resume critiques can cost anywhere between £50-£200, but I'm going to personally critique your CV for FREE just for signing up to the early bird offer. 
Bonus #2: 
10 Great Career Paths You Can Take If You're
Working in Retail -
Worth £49
People often get stuck in retail because they don't know what they can do instead of it. To help you overcome this, I've created a resource that contains 10 great careers paths you can take if you're currently working in retail. These career paths are not only realistic but they are also ones that match the transferable skills you would have picked up from Retail. 
Bonus #3: 
How to Access the Secret Job Market -
Worth £49
If you've tried and failed to escape retail in the past but failed, then it's not your fault. The traditional methods of job searching don't work, especially for those of us in retail, but there is another way. There are better ways to apply and land new jobs and careers compared to the traditional methods of using job search websites. It's called the secret job market, and in this resource, I'm going to show you the most preferred way employers recruit new staff and how you can use this information to land a career you love. it'll surprise you just how easy it is to do! 
How Much Does It Cost?
You're thinking you're about to re-mortgage your house, aren't you? Well, good news. Group coaching means you all share the cost of life-changing coaching, expert training and everything else, meaning you only end up paying the cost of a round of drinks. 
Here's what everything would usually cost.
Lifetime access to my Retail Escape Masterclass updated regularly! - worth £199 
12-week access to my private Mastermind community - worth £348
Weekly coaching calls as a group for 12 weeks. - worth £199 
Private access to our training library with recordings with special guest experts, weekly advice and training, and bonus courses - worth £499
Bonus #1 Personal CV/Resume Critique - worth £147
Bonus #2 

10 Great Career Paths You Can Take If You're Working in Retail- worth

£49
Bonus #3

How to Access the Secret Job Market worth

£49
You are getting £1,490 worth of value today by joining the masterclass.
£1,490 Of Value For Just £49?
We open this masterclass to new students only 4 times a year, and entrance is extremely limited to give you the attention and accountability you need to succeed. This is your chance and I'm going to make sure you don't miss it.
I won't let you pay me £1,490 today...
Because I'm gonna give you full membership for just £147 
And to make sure there are no excuses, I'm going to finance it for you at 0% interest.
I'll cover the full cost of your membership right now so you can get started in the masterclass today.
Just pay me back £49 every month until we're even. 
Fair?
It's time to get out of retail and land a career you love. Join the masterclass today and get started for only £49!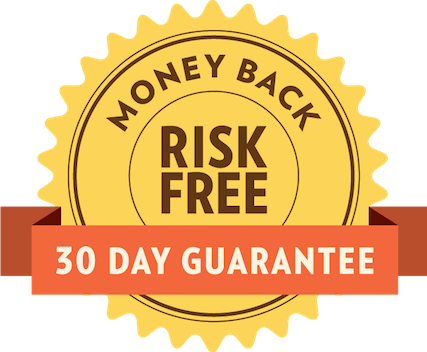 I Offer a 30-Day Money Back Guarantee
If after 30 days into our coaching relationship, you decide you don't want to continue working together…
Whatever the reason…. I will immediately refund you your full investment.
This means that if I can't help someone, and that person is you… Then you won't pay a penny!
To this day, that has never happened, but who knows, there may come a day when it turns out I am not able to help someone. 
Zero risk, right?
Worried About The Investment?
What price would you put on the result of landing a new job outside of retail?
But not just any old job—a job you love!
I would say it's pretty priceless. 
Why spend yet another year in retail, wasting your time trying to figure it out by yourself? 
I'm sure you've realised this already, but finding a new job takes time. 
Working out what you want to do, crafting your CV, cover letter and even preparing for interviews all takes time, effort and persistence. 
I will help you get all this done in a fraction of the time.
After all, I've been there, done it and got the t-shirt.
Far too often, I see people waste their valuable time and money on new ventures, unnecessary qualifications and failed career changes. 
If they had invested with me at the beginning, it would have saved them so much more than the cost of my coaching (and their time too). 
In fact, I've helped people escape retail and even increase their salary.
Most recently, I helped someone get a pay rise of £5,000, and trust me, that's nowhere near what I charge for my coaching programmes.
Sounds like a no-brainer to me.
So, let me help you transition quickly into your brand-new career.
Question #1: "I don't have time right now.
I'll wait for the next one"
This makes no sense to me! If you're reading this then you clearly want to get out of retail, and the chances are you've been in retail for long enough already. Why wait even longer? There are careers out there that you can do and you will enjoy much more than retail. Imagine what your life would be like if you woke up each day looking forward to work? In my experience, those who wait, end up in the same place 3 months down the line and nothing changes. Three months from now, they'll come up with another reason to wait three more months. Are you a waiter, or a doer?
Question #2: "I don't have the money
right now"
This is simply a lie I refuse to get behind. This may be true for other things, but I'm covering the cost and allowing you to pay me in small instalments. Those are payments ANYONE serious can make. I guarantee you can free up that amount of money in your budget if this is important enough to you. There's always a way... and what could be more important than a masterclass that will finally get you out of retail and land a new and exciting career? If you're serious about getting out of retail you can come up with £49 a month.